The working environment has a huge impact on how motivated to work your employees can be. With current pushes for wellbeing at both home and work, we are seeing 'working environment' becoming an increasingly key consideration for potential employees before accepting a new job.
Elements such as quality of lighting (both natural and artificial), sufficient air conditioning and space management are all fundamentals that should be a given in any office environment.
Sitting in a drab office, for 8 hours, at the same desk, with uncomfortable seating and little interaction with peers will ultimately lead to disengaged employees, who lack creativity and motivation.
Atlas takes a look at the top 5 ways you can inspire and increase productivity among your employees with good office design.

1. Breakout areas
Help your employees to relax and recharge away from their desks and screens, by creating specific breakout areas within the office. Having a designated space that people know they can go to away from their screen, gives them a reason to escape the confines of their desk.
According to research from AXA PPP healthcare nearly half (46%) of workers spend 4 to 6 hours sitting during office hours and a further 25% spend 7 to 8 hours being seated1. This can not only lead to feelings of fatigue and stress but could contribute to health implications.
By using a diverse range of office chairs and tables in a breakout area you can provide a place to relax, as well as a place for informal meetings. Breakout areas can benefit from furniture that is easy to move into new layouts to help provide different functions and further stimulate creativity. This way people can get some privacy or socialise in small groups depending on their required use of the space.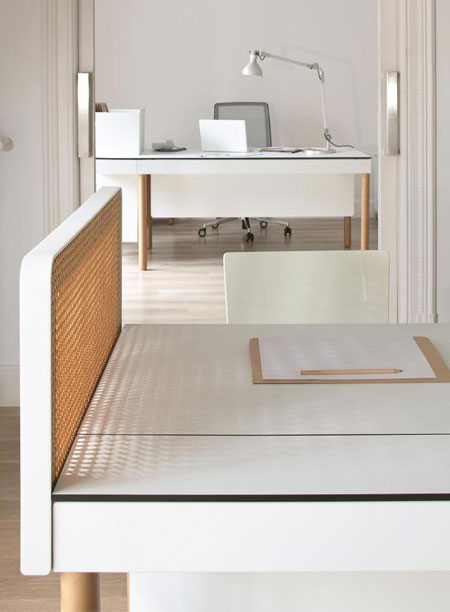 2. Hot Desks
Create flexible working areas or pods, so that people don't have to be confined to just one desk. This will allow a greater flow of creativity and enable employees to work with different teams more easily, helping the cross-pollination of ideas.
Multifunctional office furniture will allow greater flexibility, so it is easy to move around or be used by different teams requiring different uses.
Well designed, ergonomic chairs and seating help with posture and are more comfortable, so if employees have to be seated for longer periods of time, their seating will at least support them properly.
When thinking about hot desk furniture, ensure desks and chairs have expected features so that employees don't have to worry about having the required tech or services. Access to power sockets, enough space, good access to Wi-Fi or wire connection points, etc. are all important things to consider so that work disruption is kept to a minimum.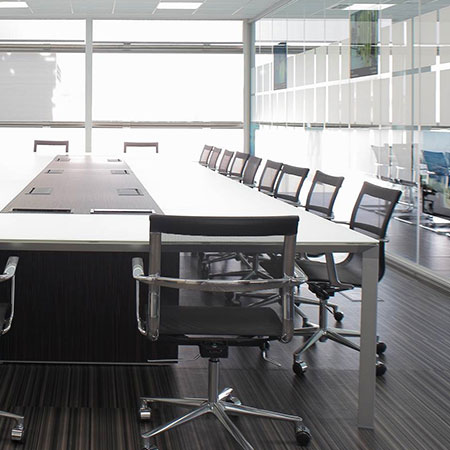 3. Makeover Meeting Rooms
Other than their desk employees can spend much of their time in meeting rooms. Its estimate middle management spends 35% of their time in meetings and upper management 50 %,2 so these rooms can't afford to be stale and uninspiring.
Don't just think about the typical board room desk and chairs, but aim to make this area comfortable to enhance creativity and communication amongst colleagues and clients. Unique seating and a layout that can sit larger groups, or curved bench seating that can provide privacy yet encourages discussions, are all ideas worth exploring to maximise on meeting room productivity.
Space and equipment also need to be taken into consideration, don't just try to squeeze as many seats into a meeting room as possible. Employees need adequate space to hold engaging presentations, along with the correct equipment to enable them to do so.

4. Colour and Nature
Make sure your office is interesting; bold colours, artwork and unique office furniture will all have an impact on creativity and work engagement. It's not just salary, culture and career prospects that entice people to accept a job, 21% of millennials have admitted to at least once rejecting a potential employer due to their office aesthetics3.
An inspiring office won't just help boost the productivity of the people that work there. A well-designed office will impress clients. A well-kept, stimulating work environment often has a great impact on clients, highlighting that you care about the company and the service you provide, boosting your corporate image.
Colour is an important consideration, striking balance between elements that encourage creativity, but that are not counter-productive and cause distraction need to be well thought out. Certain colours are known to impact emotions, green, for instance, is meant to increase creativity, so why not think about having green office furniture instead of the standard grey desks and black chairs seen in most offices. Blue is known to stimulate productivity, so why not think about adding blue into patterned flooring, artwork or on a specific wall.
Incorporating natural materials and specifically indoor plants into your office design will also help boost mood. According to a study by Exeter University office plants can increase creativity by 45% and productivity by 38%.4 Create areas of interest by placing plants on window sills, in receptions areas, framing doorways or near desks.

5. Space
Sometimes employers can try to fill their office space with rows of desks all slotted next to one another, to make the most of the space they have. But too many desks close together can make people feel claustrophobic and confined, which in turn has a negative impact on their comfort and motivation.
Try to think about office flow, where do people need access to the most (bathrooms, meetings rooms, kitchen etc.) Optimise the layout of desks and furniture to allow freedom of movement and give people enough space to spread their wings. Under workplace regulations, each employee needs to be provided with at least 11 cubic metres per person in an office area.5
As well as ample space, think about smart solutions so that your employees have everything they need at their fingertips, helping to make their time more efficient. Functionality such as correct cable management, electric sockets, removable partitions, lockable drawers or filling areas.

In a time where the quality of the environment within the office can often be a deal breaker for new employees, and also for maintaining a positive and productive atmosphere for those who are already working there – it is worth evaluating your spaces to ensure you are getting the most from them. Why not take a look at our Office Furniture page for inspiration, we provide ergonomic, well designed technical furniture solutions for meeting and conference rooms, breakout areas, desks and cubicles, no matter the size of your company. For details on solutions, Atlas Contract Furniture can offer, contacts us and start chatting to one of our friendly team members.
References:
1. https://www.axappphealthcare.co.uk/business/business-health-centre/insights/sedentary-at-work/
2. https://www.themuse.com/advice/how-much-time-do-we-spend-in-meetings-hint-its-scary
3. http://elitebusinessmagazine.co.uk/people/item/millennials-are-rejecting-job-opportunities-in-ugly-offices
4. http://www.exeter.ac.uk/news/research/title_306119_en.html
5. http://www.hse.gov.uk/contact/faqs/roomspace.htm