As with all aspects of our bespoke banquette seating, every element is completely customisable to achieve the exact look and feel you are after for your venue or business. Our fluted seating style is a timeless design which will bring a special flair to any interior type or sector; feeling at home in everything from contemporary bars through to stylish corporate spaces.
Whether you have an exact idea for the type of fluting you would like, or perhaps you require some recommendations on what may be best suited for your business – we are here to assist at every step with our decades of industry experience and knowledge.
Within this article, we will discuss some of the key considerations for creating your fluting style, along with some insight into the customisable elements we offer.
Fluting Styles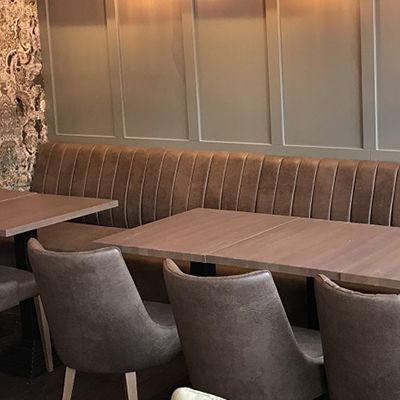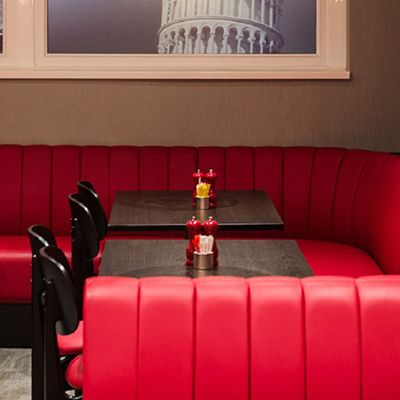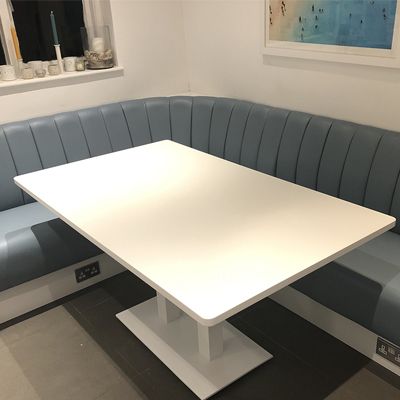 Terminology for similar fluting techniques and style may vary slightly between manufacturers. At Atlas, we offer 4 main fluting styles. Please do not hesitate to get in touch for further details, or for an enquiry into a fluting style that is not listed. As specialists in bespoke contract furniture, we pride ourselves on being able to undertake nearly any type of customisation or detailing that may be required.
Slash Fluted

ABOUT: This is the most common type of fluting that we produce at Atlas. Upholstered with precision uniformity; producing an elegant flute with slight definition, but not too pronounced. A classic, timeless look, and hence why it is our most popular style.
PRODUCTION: Once the foam has been prepped on the completed seating carcasses from our in-house joinery department, calculated cuts are made into the foam where the flutes are to nest in place. The prepared cover is then upholstered by our skilled upholstery department, using tension at the top and bottom rails to pull the flutes into the slashed foam. This is all undertaken with incredible attention to detail, to ensure the flutes are perfectly aligned with one another.
Deep Fluted

ABOUT: Our 'Deep' fluted style of fluting is upholstered very similarly to 'Slash' fluted, the only key difference being with how the tops of the flutes are finished. Due to an additional layer of foam on the top rail of the seating carcass, the tops of the flutes are much more pronounced – showcasing a 'scalloped' appearance. This is a great fluting style for giving a luxurious, extravagant and inviting aesthetic.
PRODUCTION: Prior to prepping (as per the 'Slash' fluted style), a layer of foam (the width and length of the top rail) is added to the top rail. This results in a double thickness of foam along the top rail. The calculated cuts are then made into the foam where the flutes are to nest in place, followed by the prepared cover which is upholstered to pull the flutes into the slashed foam with tension. The double thickness of foam is what creates the 'scalloped' look on top once tension is applied through these deeper cuts.
Traditional Fluted
ABOUT: At its heart, 'Traditional' fluted style is also upholstered very similarly to 'Slash' fluted. The main difference with this style, however, is that there are no separate end panels. This gives a seamless and continuous look, showcasing a softened edge along the side of the end flutes.
PRODUCTION: As before, the foam is prepped accordingly on the seating carcass when finished in joinery, and the precision cuts are made into the foam where the flutes are to nest in place. The difference with this style is the way in which the upholstery cover is prepared. The side panels of the cover are not cut separately and then affixed to the main part of the upholstery cover (as so in styles above). Instead, when being upholstered onto the seating construction, the main part of the upholstery cover is brought all the way around the side of the unit as once piece, and across to the back of the seating where it is then secured into place.
Recommendations for Slash, Deep & Traditional Fluting
Due to the nature of this type of fluting, we recommend that the flutes are not too close together as they risk falling out of the slashed foam. We also recommend against use on taller backs (where the flutes are considerably longer), as tension is lost in the upholstery cover. This may compromise the final look for similar reasons. Our standard flutes are nominally 150 mm wide, although the width can be customised to suit the design of your venue.
Stitch Fluted / Sewn-In Fluted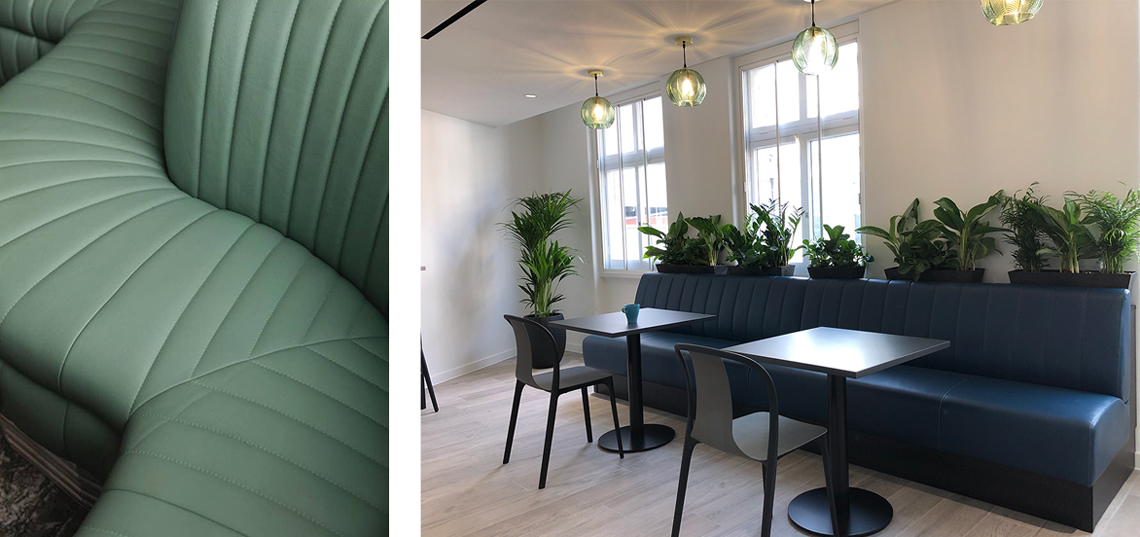 ABOUT: 'Stitch' (sometimes referred to as 'Sewn-In) fluting produces much less pronounced flutes; laying nearly flush in-plane, and with flute depth dictated by the thickness of fabric and backing. This is a great way to introduce more subtle detailing – often commended for its elegance and minimalistic feel. A great choice for those who are torn between plain back and fluted back designs, or those looking for a different twist on a classic fluted design.
PRODUCTION: The banquette seating frames are prepped with foam similarly to our plain back seating style. To produce these flutes, the upholstery cover is prepared and laid on the backing material. The flutes are then stitched into the two materials, joining them together and producing subtle flutes as a result. The completed cover is then upholstered onto the seating frame.
Recommendations for Stitch Fluted / Sewn-In Fluted
One of the key benefits to this style of fluting is the flexibility with flute width. As they do not rely on nesting into foam to maintain their shape, they can be made much narrower than those on standard slash fluted backs. There is also potential for interesting stitch detailing and designs to be created for an added design edge).
Other Recommendations
Plain upholstery covers work particularly well with fluted back designs, as the flutes themselves bring an additional character to the material through three-dimensional form and the resulting shadows. However, we have seen some excellent uses of patterned fabrics backs too, with subtle designs that provide an elegant design edge. We source thousands of upholstery covers from quality suppliers, in a variety of colours, textures and materials. With our experience and knowledge in the hospitality industry, we can advise you on what will look and work best, or we can also work with your supplied upholstery cover if you would rather source your own.
With Atlas, the possibilities for customisation are endless. We strive to produce stunning, functional, made-to-measure seating that meets all your requirements to the letter. Why not take a look at our website: https://www.atlascontractfurniture.com/ to browse our gallery, view some previous case studies, and download our catalogue for further information? Do not hesitate to get in touch – a member of our friendly team would be delighted to discuss your requirements.