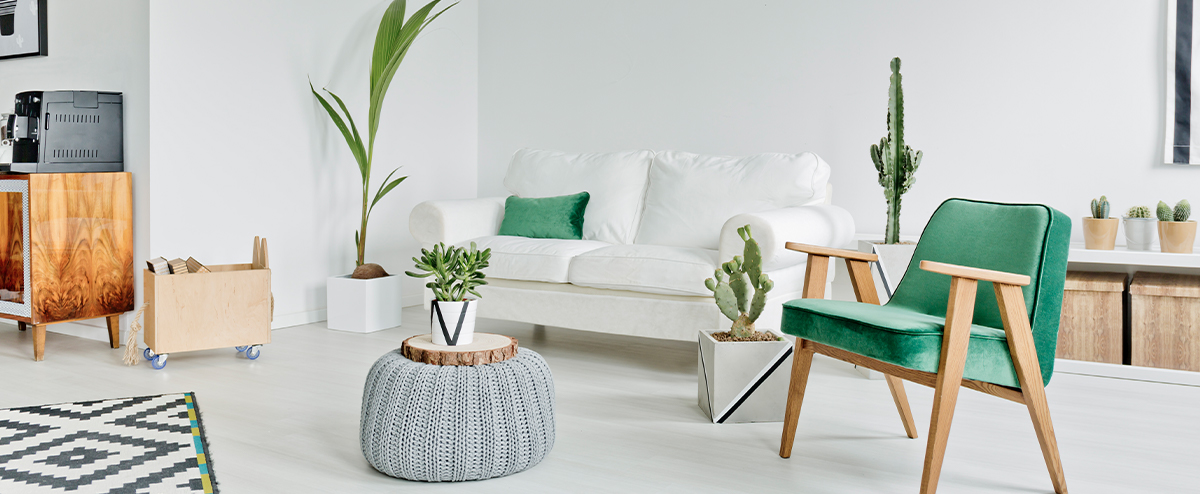 Scandinavian interiors are perhaps the chicest, simplest and most practical of interior design trends.
Contrary to most modern and minimalist spaces, Scandinavian style blends together textures, soft hues and luscious foliage to make a sleek space feel warm and inviting. So how can you use the interior design theme to brighten up your space and make it more inviting?
What is Scandinavian style design?
The essence of Scandinavian design is that of function and simplicity. It is typically characterised by a stripped-back, minimalist aesthetic consisting of muted and neutral colours, natural materials, including wood and leather, and comfortable and warm textiles such as woollen throws and rugs (most likely inspired by the cold climates of Scandinavian countries).
Melding sleek sophistication with a sense of home and comfort is something that is distinctively Scandinavian, and there are several key ways you can integrate this popular style into your space.

How to create a Scandinavian space?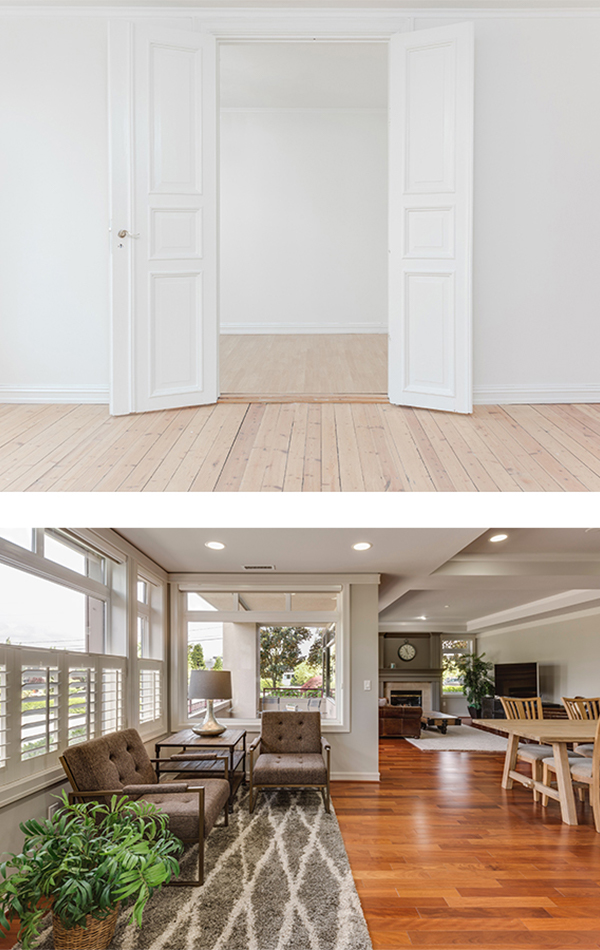 Scandinavian spaces tend to be open, flooded with light and clutter free, so there are a few key areas to consider if you are looking to authentically incorporate the style into your home.
For instance, using white or light grey paints for your walls can make your space seem much more polished and bright. And light-coloured wood or stone floors can equally make your rooms feel much larger and illuminated.
The Scandinavian approach to patterns is one of symmetry due to its simplicity and embodiment of calm. So if you would like to display some artwork or patterned accessories in your space, symmetry is the way to go.
For a quintessentially Scandinavian space, it is also important to incorporate warm elements to elevate your room from purely minimalist to a well-balanced blend of textures and tones, making your space feel welcoming and comfortable.
Whether this means selecting a mohair rug for your floor or scattering booths and sofas with luxurious cotton cushions, the addition of cosy fabrics is a must to bring a sense of Hygge to your space. Hygge is a Danish and Norwegian term for tranquillity, comfort and contentment.
Choosing your furniture carefully and selecting tables, seating and cabinets with modern sleek designs (smooth finishes and clean lines) that will complement your space rather than clutter it up is characteristic of Scandinavian design, as function and space-efficiency are central themes of the style.
In selecting your furniture, keep in mind that 'less is more'. Finding items that are multi-purpose, such as benches with hidden storage compartments, can help you save space the Scandinavian way!
Key Features

Neutral Tones
Wood
Foliage
Clean lines
Hygge - cosy
Symmetrical patterns
Textures
Light
Functionality
Why is 'Scandi Style' so popular?
Scandinavian style is well-loved for its practicality and the way in which each piece of furniture serves a purpose and uses space efficiently. Not only is function a popular aspect of Scandinavian style, but the neutral tones, comfortable accessories and upholstery, natural materials, and the bright and open spaces create the perfect atmosphere for serenity and contentment – making for the perfect environment for relaxation, which is great for both homes and venues.
The Scandinavian style also includes well-made and often sustainably sourced items of furniture and décor, and as 'less is more', it is a cost-effective approach to decorating and arranging your space. So no matter your budget, Scandinavian design can work for everyone.
Our Range
At Atlas Contract Furniture, we supply a huge range of furniture in a variety of styles. As the Scandinavian style is so popular and functional, it is the ideal choice for many venues, including bars and pubs, hotels and bars and pubs.

We have plenty of high-quality furniture available in an array of natural materials to help you achieve the understated Scandinavian aesthetic. We have the attention to detail required to capture the essence of the style and can customise furniture to perfectly fit your venue and create the elegant open feel characteristic of Scandinavian spaces.
We understand that the furniture you choose needs to reflect the style of your overall space, whether this is a restaurant, bar, business or home, so we will go above and beyond to make sure you achieve the look and atmosphere you desire, whether this is Scandinavian inspired or another style.