When it comes to choosing the right fabric for your upholstery, the possibilities may seem endless. There are so many choices to make, it can be a little overwhelming. Here at Atlas we can help you make the right decision for your business, with expert knowledge from our consultants at every stage.
Before you come to your final decision, make sure you consider all the points below to ensure you have made the right choice and explored all the options.
How to Choose the Right Fabric?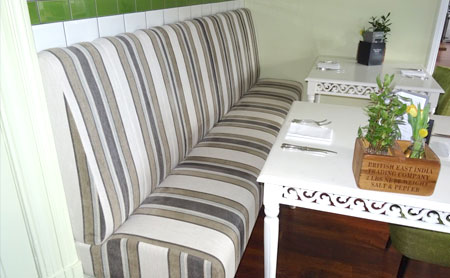 Pattern and style
Make sure you choose a style that suits the interior design of the room. The fabric should suit the style of the furniture as well as the style and character of the building, think about what you want to communicate from the look of the room.
Think about the size of the pattern, don't just pick from a picture online, you'll need to ensure the pattern complements the covering and size of the room. A big pattern in a small room may be overwhelming and look too busy. Then again a tiny, intricate pattern in a large, spacious room may get lost… you may not want a pattern at all, and simply go for a plain colour.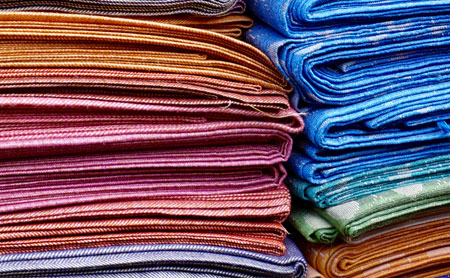 Colours
The colour is often the first choice people make when picking fabric, but actually it makes more sense to pick the material first and then pick the colour.
Colour can be a big choice, so make sure it will be a shade you will be happy with for a long time, trends will come and go, so it's best to pick something you love. Warm colours such as red, yellow and orange are thought to be energising, happy colours… and some research suggests red is an appetite stimulating colour! Cooler colours such as blue and greens are often thought of as calm, and trusting.
Remember light colours will stain more easily, so if you do decide to go for a lighter colour, ensure it's easy to clean.
Stains / Maintenance

Consider how much maintenance a fabric takes to keep it looking in good condition and lasting longer. Some fabrics can come with the option of adding a stain guard coating, why not ask us for details if this is something you'd like to consider.
Patterned fabric can often hide stains a little better, than plain colours. Then there are the synthetic fabrics to consider, such as vinyls which are wipe-clean.
Durability
A really important factor in your decision is the durability of fabric for your furniture. You'll need to consider how your furniture will be used and by who. Higher thread counts, tighter weaves and woven fabrics tend to last longer than printed materials.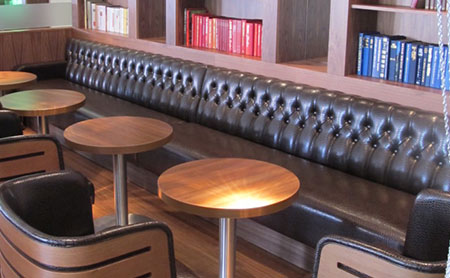 The Martindale Rub Test can be used as a measure of durability. This is where the fabric is pulled taut onto the Martindale machine and small discs of wire mesh are rubbed against the fabric. Once the yarn breaks or has a noticeable change, the test ends and the fabric is given its score. Results are given a score of 1000's of rubs, the higher the number the more durable a fabric. It's recommended that contract use materials have a score of over 40,000 rubs!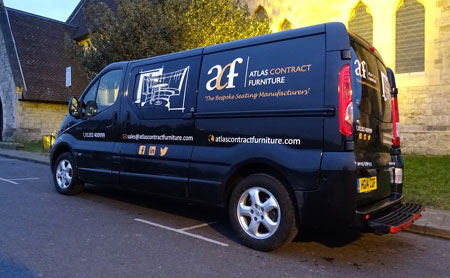 Check the details
Fabrics used for contract need to have a Flame Retardant rating of Crib5, this is to ensure that it meets certain fire safety laws. Venues such as airports may require an even higher classification of Class0, so always make sure you are meeting the right regulation for your business.
Depending on whether you choose certain finishes or go for extra coatings this may add on further lead time to your order so make you plae your order well in advance, to avoid disappointment.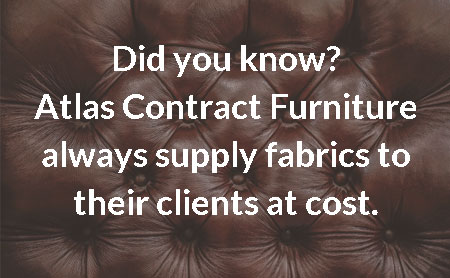 At Atlas we can source from thousands of upholstery covers, from a variety of fabrics to synthetic and real leathers. We are always very transparent about our sources and supply all our upholstery covers at cost price. If you need assistance choosing the right fabric, we can send out samples to you, or if you would prefer to specify your own fabric, we are more than happy to work with any customer's own material.
The fabric is just one element of choosing the right banquette furniture for your business, why not take a look our banquette seating blunders blog to get some more ideas of what else to think about.
Top Tip
Always ask for samples, so that you can feel the fabric and actually see the colour/pattern