Chances are that if you're a restaurant owner or restaurant-goer you've used banquette seating. Banquette seating is a type of fixed seating that utilises the interior features of a venue, like the walls, alcoves and corners. Examples of this type of seating include wall benches, booths and corner seating, as seen in the examples below: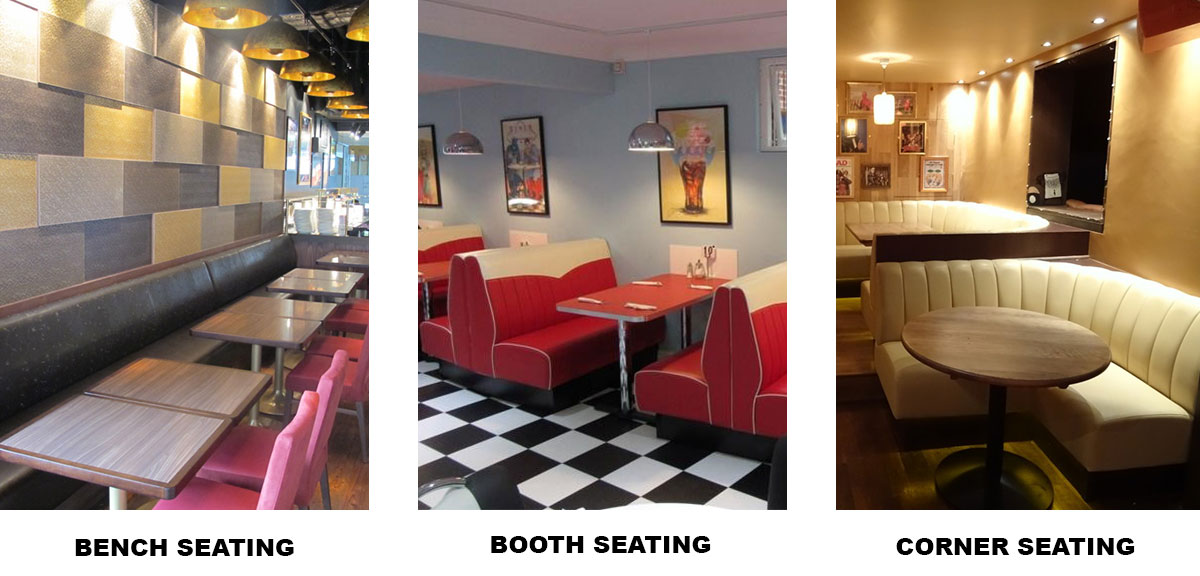 You'll find fixed seating in most hospitality venues nowadays; it's not just in restaurants but pubs, hotels, clubs, bars and cafes. It's an iconic feature of a modern interior design. And it's not difficult to see why: it gives a space so much character and is well loved by customers.
We've decided to provide you with more information on the benefits of fixed seating. This aims to help those of you considering fixed seating in your restaurant, those of you unfamiliar with this type of seating and those of you who, like us, are a fan of banquette seating. While we may focus mainly on restaurant seating, you can apply the lessons you learn to other types of hospitality venue.
A quality contract furniture supplier will be able to design furniture that best suits your restaurant's interior. They will utilise space that you didn't realise you had.
Maximise your restaurant's features
A great point about fixed seating is that it is designed to your restaurant's specifications and every restaurant is different. In the UK, in particular, we have a diverse range of buildings being used as pubs, hotels and restaurants, each with their own unique character and architectural features. You can take advantage of features to create a stylish space.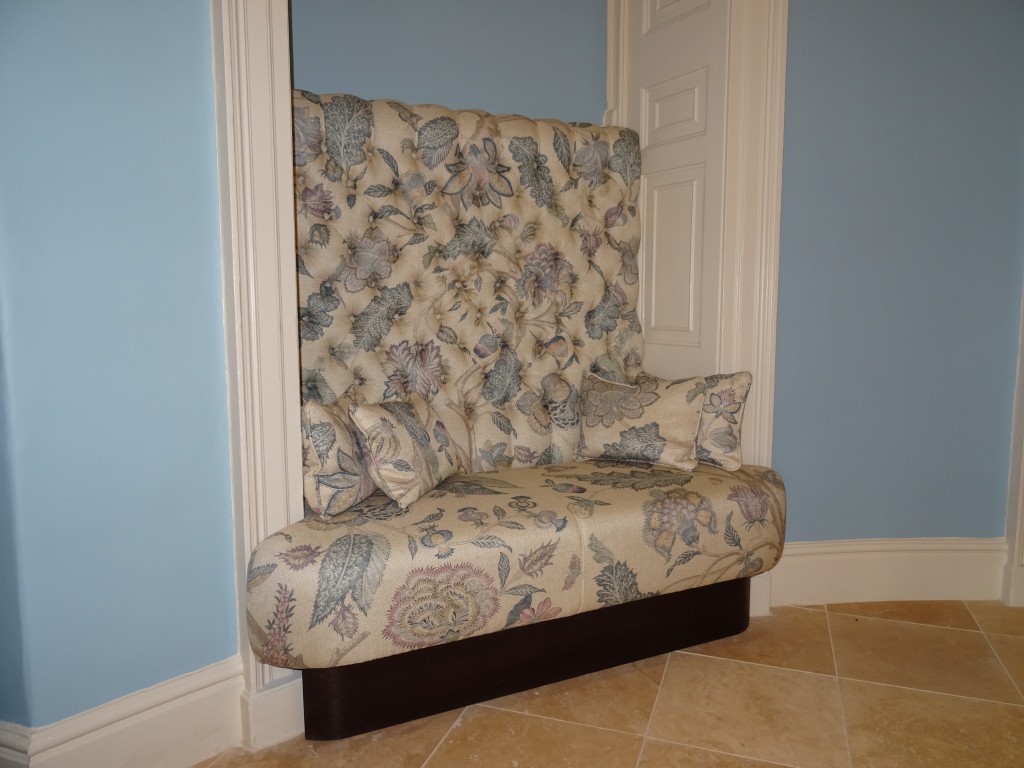 Taking advantage of this hotel's features
Atlas worked on this reception area in a spa and designed custom seating in an alcove. This added some extra seating in an otherwise unusable space and suited the old style of the building and its wood panelling.
Fixed seating is also beneficial for utilising table and chair space near corners and walls. Normally customers need to have enough space behind a chair to pull it out and sit down. But you don't need to worry about this with wall benches and corner seats. You can create a cosy space for your customers to make their own.
Customers feel more comfortable with fixed seating because it adds a layer of privacy to their dining experience. A booth feels like an enclosed space that is exclusive to a group. This is because the space is wholly the customers. It's not part of a walkway so customers don't need to scoot in their chair to make way for other customers.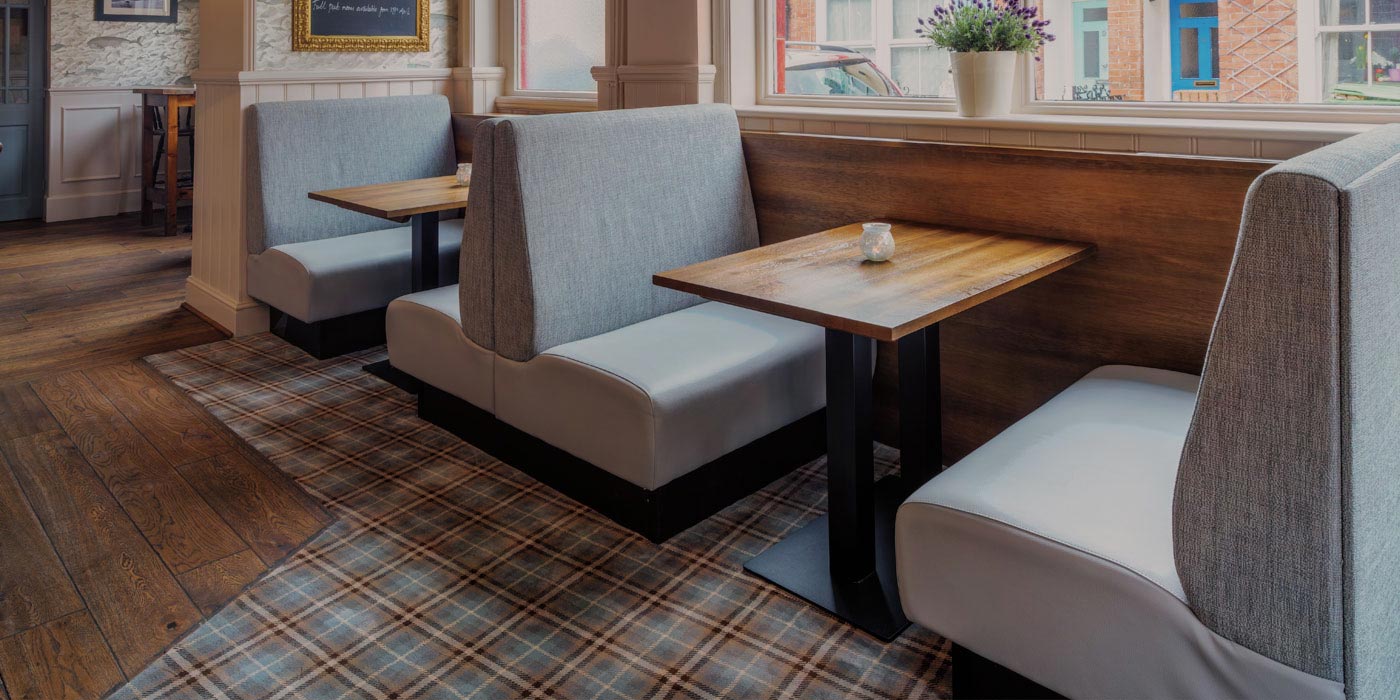 Privacy is important to customers, so you can customise a booth to maximise their privacy. As an example, you can increase the height of the seat's back to minimise the noise travelling to neighbouring customers. This is also a great to avoid being disturbed by others.
Make bookings easier
This is always a useful benefit for any restaurant owner. Making bookings for large parties is always difficult. Large bookings are likely to spend more but you want to make sure that they don't disturb other customers. A wall bench seat can fit a larger group in one space so that they can dine with one another and have their own exclusive space, which is away from most customers.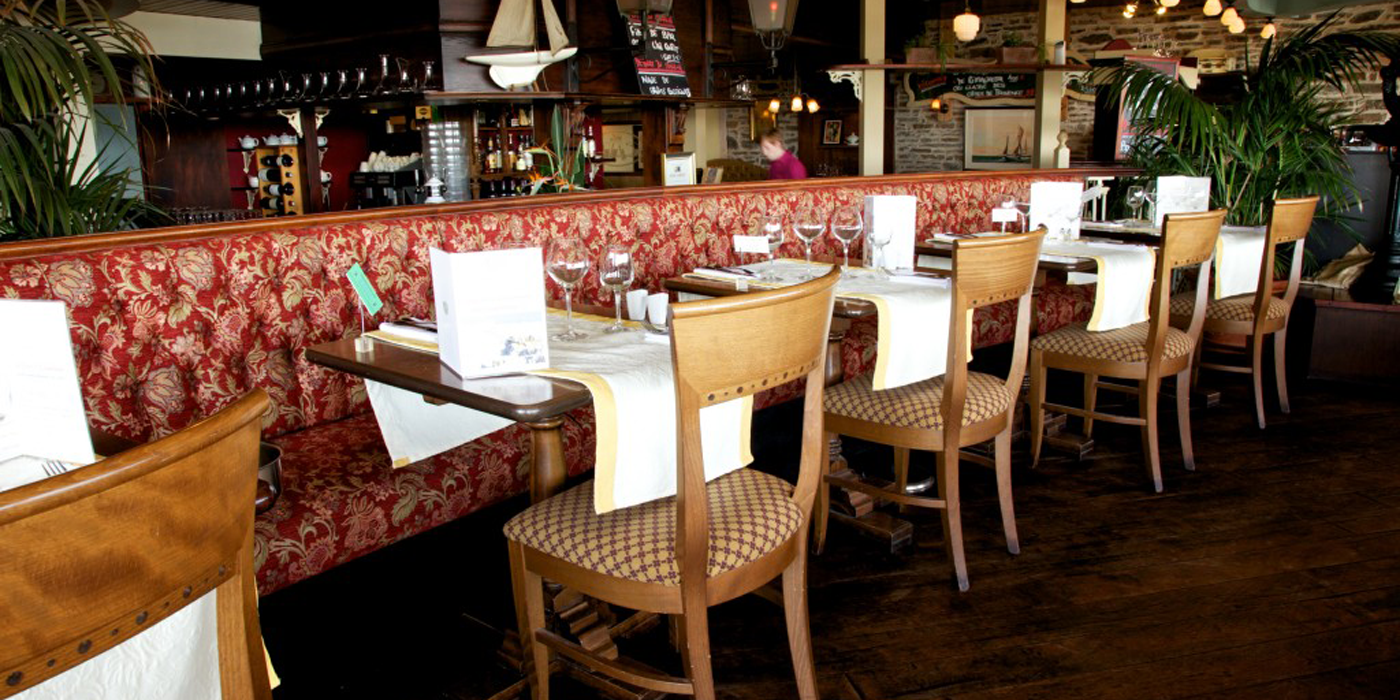 Fixed seating is also great for children. If you've got a booking with lots of children you'll be able to fit more children on the bench than you would if you had a chair for each child. While it may not be an ideal seating plan, fixed seating enables customers to adapt their seating preferences.
Banquette seating is built to last
When you're working with an experienced contract furniture specialist, you'll know that they are building banquette seating that is purpose built for your venue. They will take into consideration your business, what you need and who your clientele are. They want to build high-quality that will last to ensure you reap the benefits of your investment.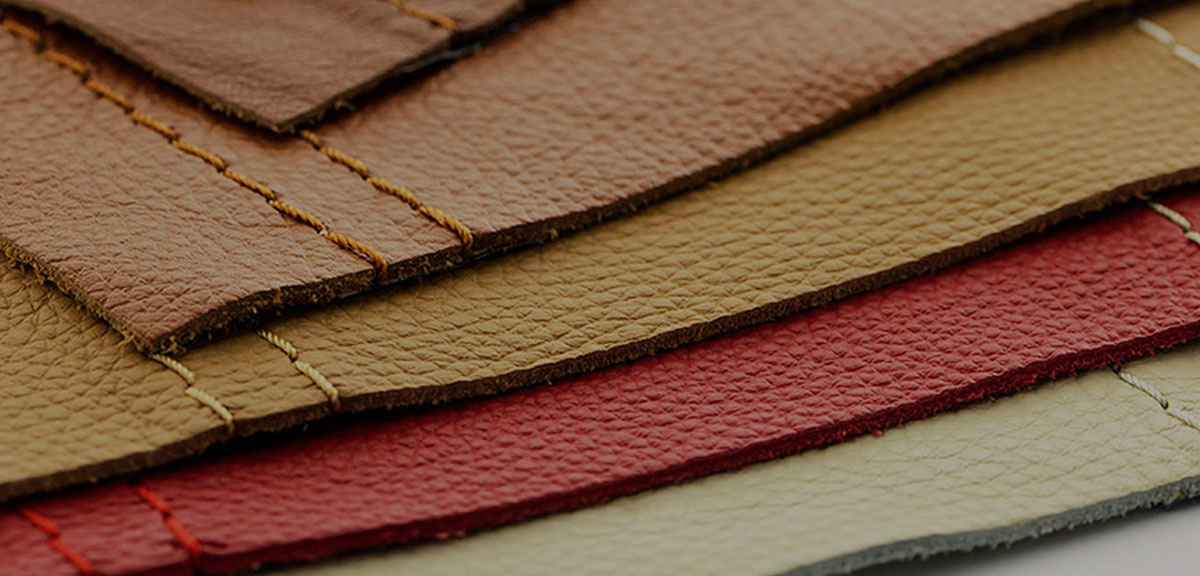 Fixed seating itself is durable. But, your choice of upholstery will also have an impact on how long-lasting the furniture is. It's up to you, but durable fabrics, like leather and vinyl are more likely to last. They will also be a lot easier to clean. It's a good idea to pick dark fabrics for your upholstery, as white and cream are more likely to get stained. Nothing will ruin a cream velvet piece of furniture like a red wine spillage.
Fixed seating looks great
Simply put, fixed seating looks good. A contract furniture supplier has experienced designers working on the projects. They will design the furniture to suit its environment, taking advantage of the key features.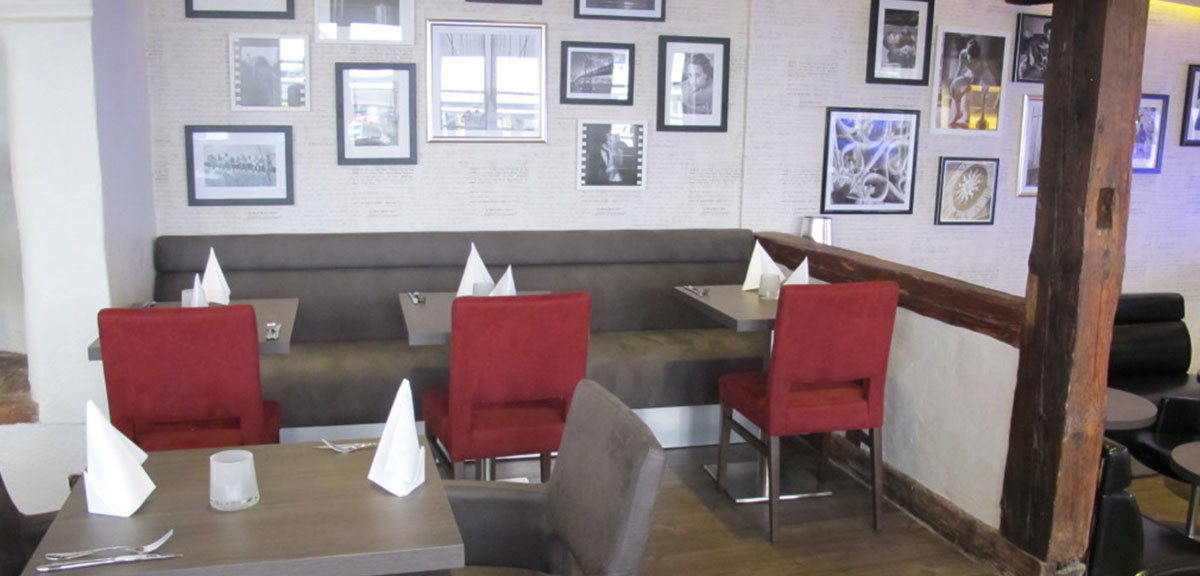 A Restaurant in Sweden
This restaurant in Sweden juxtaposes the wooden beams of an old building with the modern furniture design. The bench is fitted between the two walls, which takes full advantage of the space. The seating plan can adapt from three separate tables to fit six people (as seen in this photograph) or by pushing tables together and having two groups of four. For a customer, it looks like a desirable place to have enjoy a meal out.
Read the Case Study.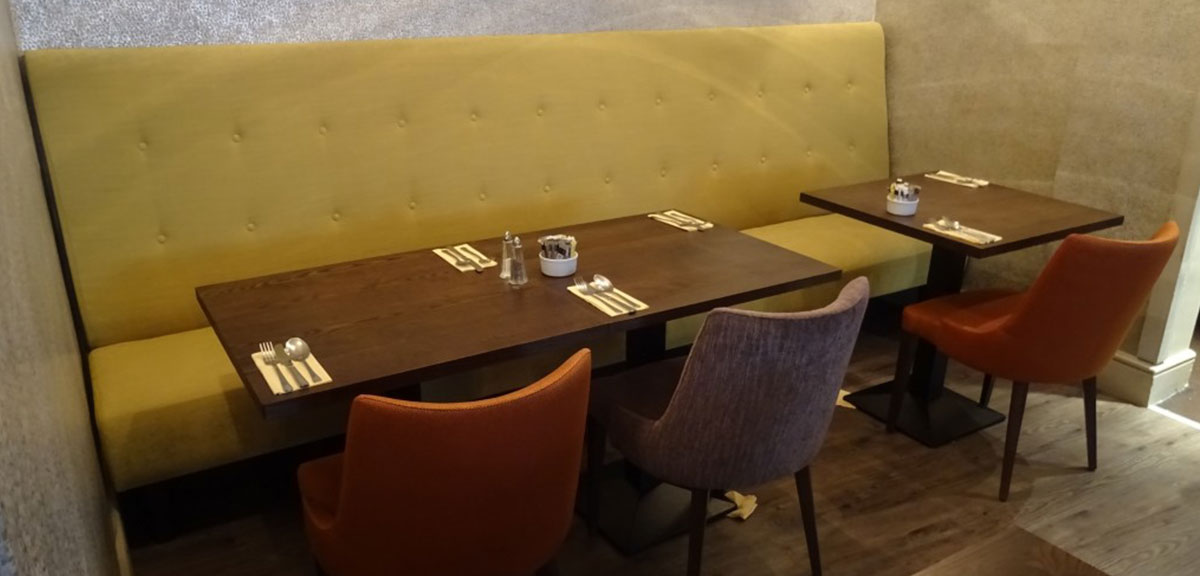 A Pub in Basingstoke, Hampshire
This pub seating is also enclosed between two walls and creates a nice private nook for customers that is separate from the rest of the restaurant. The design is modern, using pastel colours and the bench has a high back with button features.
Read the Case Study.
Both examples show how a bench has utilised a building's features to create a desirable space. While you will, of course, choose the style of your banquette seating, having a designer on hand to make your vision a reality is a plus. They will know what looks good and be able to provide you with recommendations that maximises the appearance and restaurant space.
Completely customisable
A unique selling point for fixed seating is that it is entirely customisable. You will be working with a manufacturer who is building something to your specifications. That means you can, within reason, have whatever design that you want. Here are some examples of what you can do to customise your design.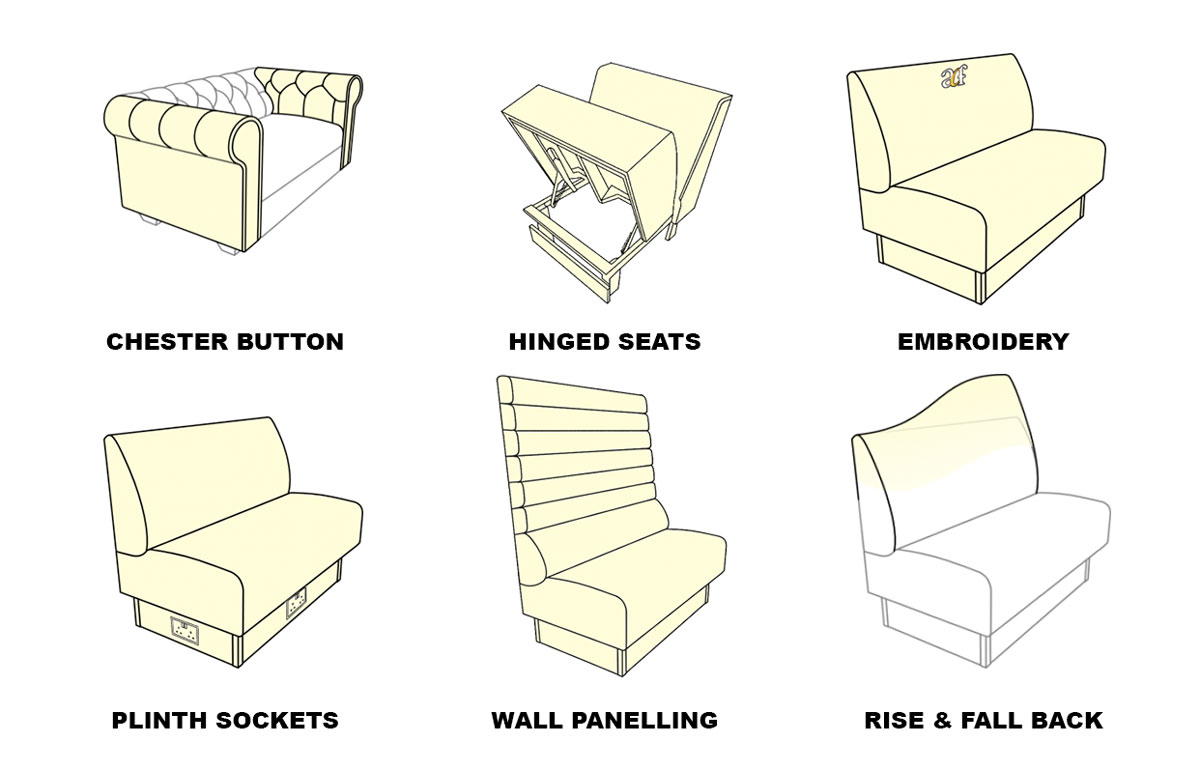 Chester Button - Add some luxury to your furniture design with chester buttons arms.
Hinged Seating - Need extra storage? Use this hinged storage idea for convenient access.
Embroidery - Maximise your brand by having your logo embroidered on to the seating.
Sockets - Give your customers a chance to charge their laptops and phones by adding convenient plug sockets to the base of your seating.
Rise & Fall Back - Add a bit more character to the design by using the curved rise and fall back.
Wall Panelling - Make your furniture part of a wall's features by using wall panelling to stylise the seat.
There are so many opportunities to make your venue unique with fixed seating. Take a look at some alternative features by viewing our Bespoke Seating Designs.
---
Do you want fixed seating in your restaurant?
Atlas Contract Furniture will help you design your dream interior at your restaurant. To find out more about our services, please get in touch.