Switch Interior Design, an interior design firm led by Amy and Louise, approached us at Atlas for a Residential project they were undertaking. They were specifically in need of custom-made banquette seating to enhance the design and functionality of their project. It was the first collaboration between Switch and Atlas, and we were delighted to have been selected for this opportunity.
Requirement
Amy approached us for their residential project because they were seeking a banquette seating solution. They had a kitchen diner with an alcove that they wanted to utilize efficiently. They envisioned banquette seating as the ideal option to maximize the area and create a seamless flow with the rest of the room's design. Understanding the importance of precise measurements and seamless integration, Switch required the banquette seating to fit perfectly into the alcove. By approaching Atlas, they recognized our expertise in creating bespoke seating solutions that meet specific requirements. They were confident that we could deliver a tailored banquette design that would seamlessly blend with the surrounding elements of the kitchen diner, while providing a functional and visually appealing seating option.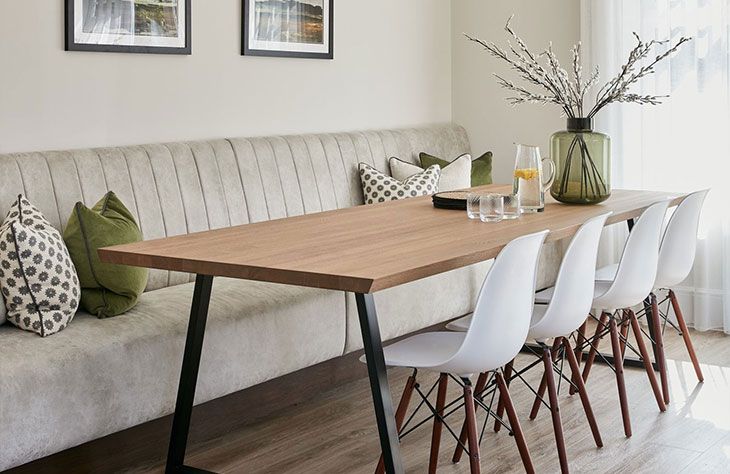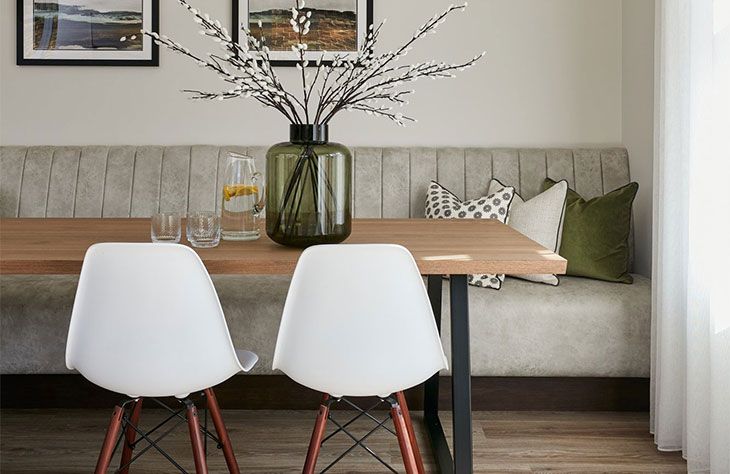 What We Did
During our initial conversation over the phone, we thoroughly discussed the project requirements, including the scope of work, design concepts, and material choices. Based on this discussion, we provided Switch with a detailed cost estimate, which accounted for factors like site surveys, delivery, and installation by our skilled Atlas team. Later on, gaining a clear understanding of the clients' needs, we produced the final quote with the small alternations added to make sure everything was in place. The client opted for a 120mm narrow Fluted Back banquette, with Serpentine sprung construction, complemented by an oak veneer plinth stained in a rich walnut finish. To enhance both comfort and aesthetics, this was then upholstered in Designers Guild – Mesa, Pebble. To ensure a seamless integration of the banquette seating into the space, we paid meticulous attention to detail. Specifically, we made sure that the banquette was precisely notched around the skirting, resulting in a flawless installation that seamlessly blended with the overall design of the kitchen diner.
Result
The use of natural tones and a contemporary finish in the room created a versatile and inviting space. The neutral backdrop provided a perfect canvas for the client to add pops of colour with cushions and accessories, adding personality and style to the overall design.
We take pride in delivering solutions that not only fulfil functional requirements but also enhance the aesthetic appeal of the space. The seamless integration of our bespoke banquette seating into the room's design allows for a harmonious and cohesive atmosphere, adding both comfort and visual interest.
We are immensely grateful for the opportunity to contribute to Switch Interior Design's residential project and for the trust they have placed in us, and we are delighted to have been rewarded with another project from Switch Interior Design, which speaks to the satisfaction and confidence they have in our services. This continued partnership is a testament to our dedication to delivering exceptional craftsmanship and design.
Thank you once again for choosing Atlas!
Want to See More?
Why not browse our stunning gallery of photos, download our comprehensive brochure, or get in touch with one of our team of experts. Whatever you contract furniture need, we can work with you towards the best solution for your project.