10 Brilliant Banquette Design Ideas
Banquette seating has become increasingly popular in modern interior design due to the versatility, space-saving quality, and aesthetic appeal they provide. Banquette seating refers to a built-in seating arrangement typically placed against a wall or in a corner. It often consists of a bench-like structure with cushions or upholstery for added comfort. It may be that you're looking to revamp your dining experience, create a hide-away nook where you can read your favourite book or meditate, or maybe you've noticed a small space that needs filling, a banquette seating plan can be the perfect solution.
Atlas has listed ten brilliant banquette design plans to combine style and functionality to elevate your space. Don't miss out on the opportunity to create a captivating and inviting atmosphere for family or guests with our banquette plans.
The Designs: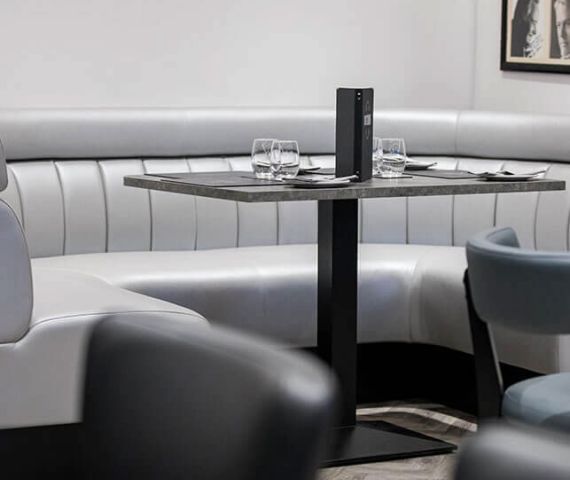 1. Corner Nook
A popular and charming application of banquette seating is creating a cosy corner nook. With corner banquette seating plans, you can utilise often-unused corner space in a room, transforming it into a comfortable and intimate spot for meals, conversations or relaxation. Corner nook banquette seating naturally offers a sense of privacy and closeness, making them perfect for intimate gatherings or cosy family meals. It might be time for you to create a warm and inviting ambience with this banquette plan that encourages conversation and connection. Whether you envision a charming breakfast nook in your kitchen, a cosy reading corner in your living room, or a peaceful spot in a bedroom, a corner nook banquette seating arrangement can help you create a delightful and functional space.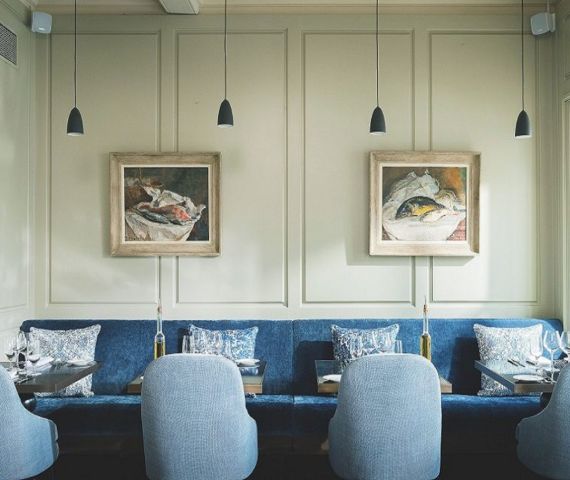 2. Achieve Minimalistic Vibes
Banquette seating plans can effortlessly bring a minimalistic feel to your home, enhancing its overall aesthetic. Some of the reasons why it's a perfect choice for a clean and uncluttered aesthetic are:
Sleek Design: Clean lines and a streamlined silhouette add sophistication to any space.
Low-Profile Look: The seating's lower height maintains an open and spacious feel.
Monochromatic Upholstery: opt for neutral-toned upholstery to maintain a cohesive and understated look.
Clutter-Free Storage: Built-in storage keeps belongings hidden, preserving the minimalist aesthetic.
Minimalist Accessories: Choose sleek and simple accessories to enhance the overall minimalist vibe.
Incorporate banquette seating into your space to achieve a clean and appealing environment, and embrace simplicity, and elegance without worrying about missing out on comfort.
3. Meditative Space
AUUUUUMMMM.
Banquette design plans are great for enhancing the ambience of your meditative space, providing comfort and more importantly tranquillity. The cosy and supportive design allows for extended periods of meditation, with an enclosed and intimate nature creating a secluded and focused environment.
You can opt for soft and soothing upholstery materials, which further enhance the calming atmosphere. Atlas suggest using wooden frames, and surrounding the banquette with plants to add that natural element which can deepen your connection with nature during meditation.
A great meditative banquette seating plan should be customisable, and adding cushions can allow you to create a dedicated and serene area where you can fully engage in your meditation practice, fostering relaxation throughout your meditative sessions.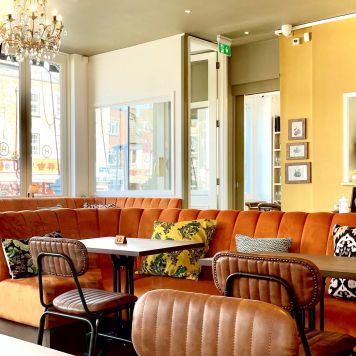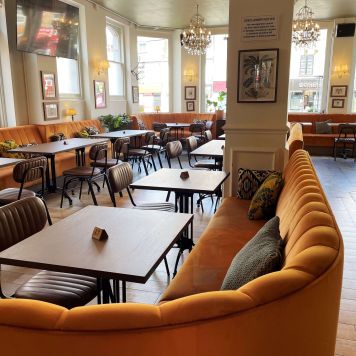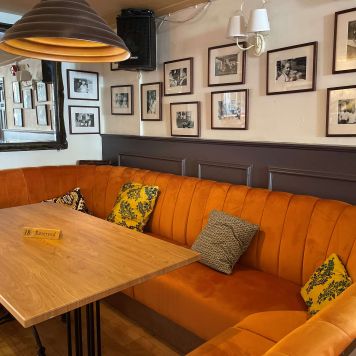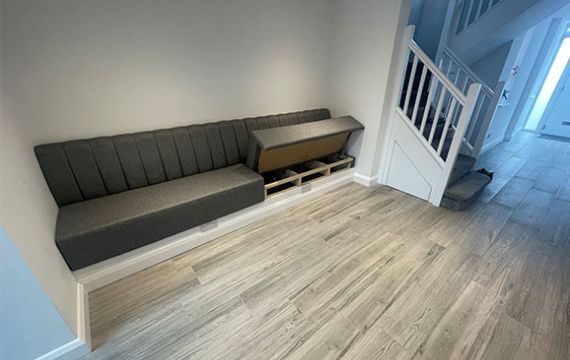 4. Storage
Hinged storage banquette seating is a practical and space-saving solution for your home. This banquette design plan incorporates hidden storage compartments within the bench, providing a seamless way to declutter and organise your space.
Our hinged seats open up to reveal ample storage space where you can conveniently store items such as linens, extra cushions, or other household essentials. This clever storage solution helps maximise the functionality of your banquette seating whilst keeping your living area tidy. Say goodbye to cluttered spaces and embrace the efficiency of hinged storage banquette seating, adding both style and practicality to your home.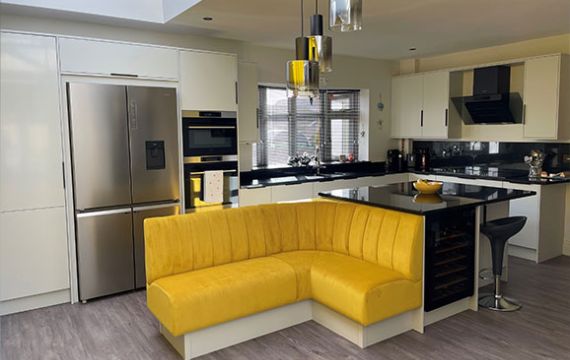 5. Kitchen Island Seating
Incorporating banquette seating into a kitchen island creates a genuine eat-in dining experience, allowing guests to comfortably sit and chat with the chef while cooking. This design preserves an open and inviting atmosphere, fostering a sense of togetherness and connection.
One advantage, particularly in multi-generational households, is that a table height is more comfortable than a bar height. This is crucial for people of all ages and heights, ensuring everyone can easily sit and dine together.
Moreover, when it comes to working and studying from home, the choice of a work surface becomes important. Consider wood surfaces, whether stained or painted to offer a more pleasant experience for writing and drawing, providing a warmer and more inviting feel.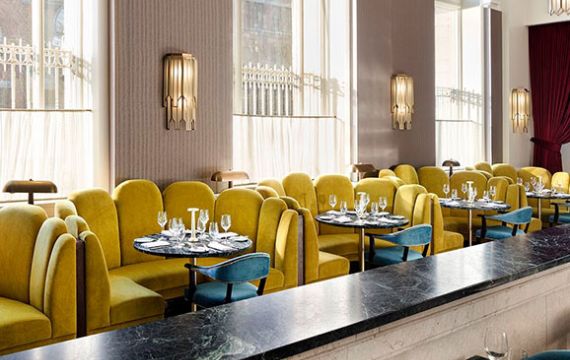 6. Textured Panelling
Atlas offer upholstered banquette seating with textured panelling that offers a stylish visual appeal. We can combine cosy upholstery with captivating textures, creating a visually interesting and inviting seating area. With versatile design options and easy maintenance, this combination adds a touch of luxury to your space, perfect for relaxed conversations and shared meals.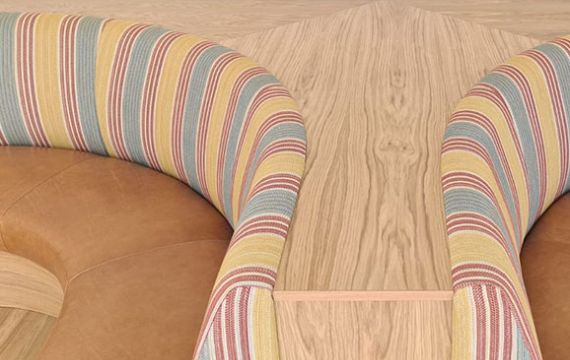 7. Vibrant and Playful
Vibrant and playful banquette seating designs infuse colour and fun into your space. Choose bold upholstery colours, mix patterns, and explore creative shapes. Add playful accent scatter cushions and accessories. Consider child-friendly elements for a family-friendly space. Create a lively, engaging atmosphere that reflects your personality and encourages social interaction.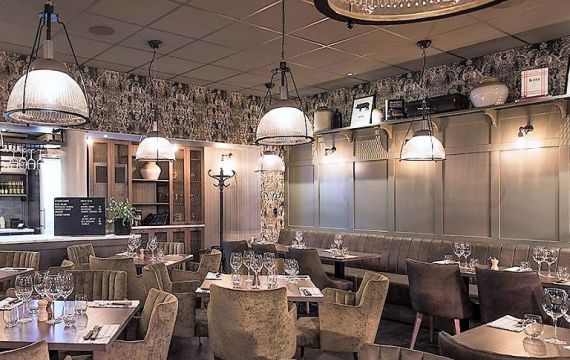 8. Luxury Look
At Atlas, we believe a luxury banquette design should epitomise elegance and comfort. With opulent materials, ornate details, and glamorous accents we believe you can create a lavish ambience. If you're prioritising both style and comfort, our upholstered, custom designs offer a unique and indulgent seating experience. Embrace the sophistication of a luxury banquette design with Atlas Contract Furniture.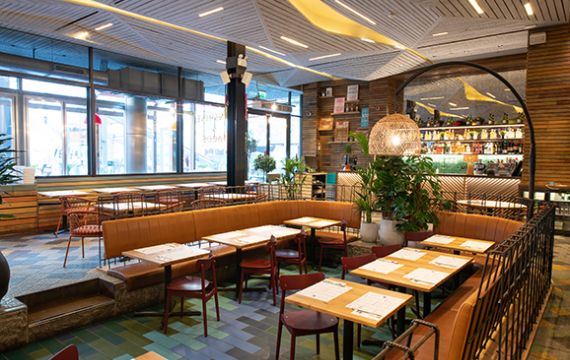 9. Hanging Cushions
Upholstered hanging cushion banquette designs offer comfortable support and a modern style. They save space, create a contemporary aesthetic, and provide greater flexibility. Enjoy the effortless comfort and visual impact of hanging cushions in your banquette design, maximise your space and add a modern touch to your interior with Atlas' bespoke seating options.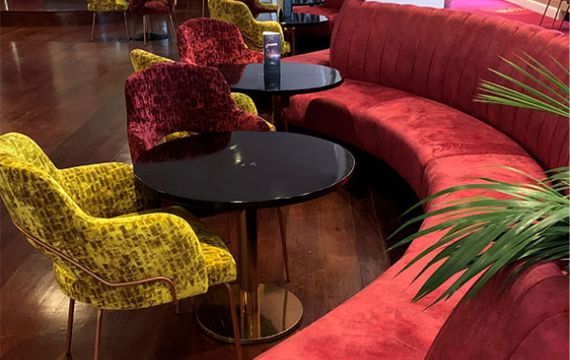 10. Curved Banquette Seating Designs
Curved banquette seating designs bring elegance and flow to your space. With graceful aesthetics, space optimisation, enhanced conversation, versatile placement options, and customisation possibilities, curved banquette seating help create a captivating and inviting seating area that becomes a focal point of beauty and functionality. Embrace the graceful aesthetics of curved banquette seating by having a look at our different styles.
Exploring banquette seating designs opens up a world of possibilities for transforming your space into a stylish, comfortable, and functional area. From corner nooks and minimalistic designs to vibrant and playful options, there are numerous design plans to suit your preferences. Consider the benefits of hinged storage, kitchen island seating, meditative spaces, textured panelling, hanging cushions, and upholstered designs.
Whether you prefer a luxury touch or a more budget-friendly approach, banquette seating offers a versatile solution for creating a welcoming and engaging environment. Embrace the beauty of banquette seating and let your creativity shine as you embark on designing your perfect seating area. From cosy family gatherings to memorable social events, these 10 brilliant banquette design plans are sure to inspire and elevate your home.
For more information or advice on banquette seating, contact us and we'll be more than happy to help.