Aesthetic, mood and style are all important areas to consider when designing your restaurant theme and furniture. But the biggest trend we are seeing a return to the restaurant industry is comfort. As well as creating an ambience for a customer that pulls them through the door, many designers and owners want to keep the customer there, and the best way to do this with seating is comfort and style combined.
After years of minimalist, industrial influences being the front runner in restaurant and café styles, a return to comfort, quality and high-end design is back by popular demand.
Having said that, variety really is the spice of life, and it's important to have a mixture of interior design styles within the restaurant trade as well as a good range of furniture styles for customers to choose from when they dine or drink within their chosen eatery. But there is only so much time a customer will sit and relax on a bar stool, pew, or metal chair. To create areas that maximise on dwell times: comfort is king.
Trend Alert
Beautifully designed banquette seating and nostalgic style booths are a big trend in the restaurant industry and one that is only going from strength to strength. Not only does banquette seating offer comfort, but also versatility. So what do we see as the biggest trends coming forward in banquette seating?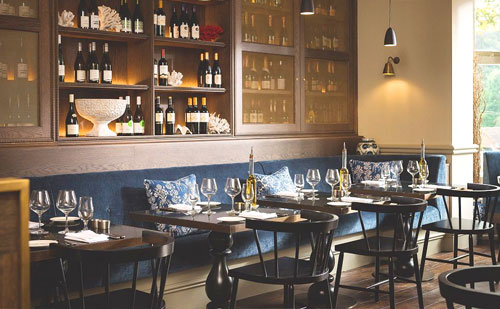 Relaxation
Creating a warm and inviting restaurant that transitions from day to night with ease is important to consider when designing your interior. Banquette seating allows casual and formal dining environments to exist in the same area, with relaxed bar and eating areas sitting alongside more fixed intimate dining areas. Comfortable booths and benches allow little nooks to be created that can in turn offer privacy as well as being more social for diners that sit in them.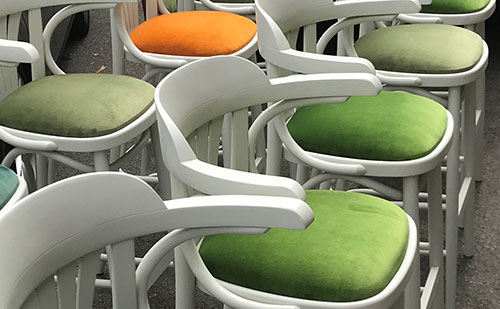 Bold colours
From millennial pinks, hunter greens, moody blues, mustard yellows and jet blacks, bold colour schemes are back. Set against a backdrop of warm neutrals, furniture shades are taking on a more daring centre stage. With many interior designers looking to create a sumptuous palette with their banquette seating and upholstered loose furniture, this not only adds to the feeling of quality but creates an unmistakable look that is instantly Instagram-able!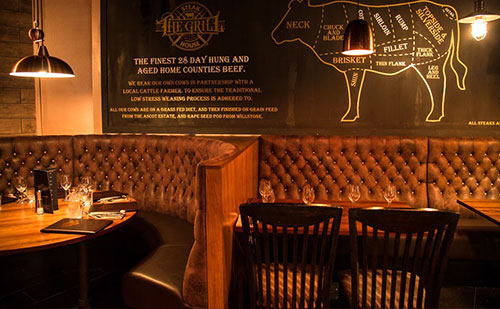 Retro revival
Perhaps as a reaction to the instability of our current political and social environment, we as a society are seeking comfort in nostalgia. We are appreciating things that have stood the test of time, good quality design and 'retro cool'. Whether that be the decadents of the 70s or the opulence of old-school 50's glamour, classic design is being sort after. Think brown worn leather deep diamond button backed booths in old American style steakhouses, or deep blue velvet fluted panel benches with gold accents in luxury hipster restaurants.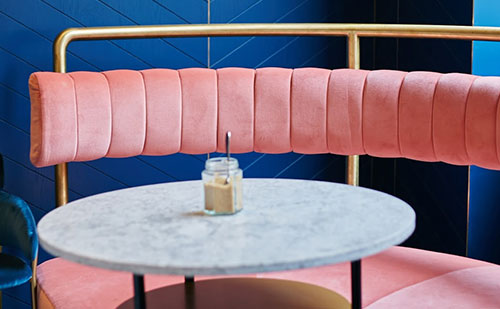 Velvet
Fitting in nicely with the retro design aspect is the resurgence of velvet, which is a massive interior trend for 2019. Not only is this a soft fabric adding extra comfort, but it also comes in a never-ending choice of colour. Creating a juxtaposition of both traditional and new, velvet, a classic material works especially well when mixed with contemporary designs. There is a whole range of combinations (not just velvet) that clients can introduce into their spaces, to make them extremely comfortable and entirely unique.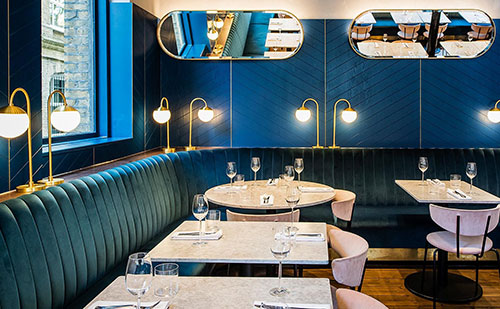 Luxe
Hand in hand with these deeper hues, nostalgic fabrics, and 20th-century opulence is a truly luxe atmosphere, these warmer tones are creating a comforting ambience that banquette furniture appeals to. Dark wood, marble and glass are also going to feature highly within the luxe trend.
Quality Control
Banquette seating such as benches and booths aren't just about the 'Instagram-ability' and on-trend nature that these seating styles can create. What makes banquette seating so popular with designers and customers alike is the quality aspect that comes with it.

Ergonomics: design for use
As well as style, it's important to ensure that the seating you choose is fit for use by identifying what that end use will be and tailoring the design to accommodate this. It's essential to provide the right seating for the right purpose, will people be drinking/eating/relaxing?
The expectation of comfort may vary on what the usage is, for instance, dining needs more support versus relaxed lounge use. There is also the question of height, do you need coffee height, dining height or poseur height, or a mixture. Atlas can help you ensure all your furniture designs are ergonomic and fit for purpose as well as having style.
Longevity
Not only does banquette seating produce the feeling of being top quality but it really is. As well as our Standard Sprung Seating frame offering extra comfort with an ergonomic design, it comes with a 10-year frame guarantee. Allowing our clients to rest assured that their bespoke furniture design will stand day in and day out use, whilst giving customers added comfort.

Atmosphere
Not only are Booths a good choice in restaurants because they offer privacy and help spark conversation within groups but they are also comfortable and create a sense of cosiness even in a busy dining area. Most diners offered with a choice of tables and chairs or booths will often choose a booth, as it creates an enclosed atmosphere that makes their dining experience feel a little more exclusive.
Practicality
Not only is banquette seating such as benches perfect for offering more seating in a smaller area (loose chairs need at least 60 cm of space around them to comfortably allowing people in and out), but they allow the possibility of unique features such as built-in storage. There are endless customisation options; seating styles, upholstery or decorative features. There are even bespoke features such as heated seating pads.

Atlas Bespoke Design
Our team of experts at Atlas can discuss the intended use of your seating and your overall desired interior style to advise you of the best construction and bespoke design for your restaurant furniture. Whether you're looking to create super comfort to increase the dwell time of your customers and create a calm atmosphere, or you want something a little edgier and firmer to increase customer flow, we can help you find the perfect solution, that's entirely styled to your business too.