Leather is a hugely popular choice of material for pub, club, bar and restaurant seating and with good reason. It is durable enough to stand the test of time, looks stylish while it is still comfortable for customers to sit on. Leather is a fantastic option for banquette seating areas, lasting for years, especially when looked after correctly.
Softer Leather is Better Leather
Is there anything more comfortable than a soft leather seating area to kick back in? In order to make sure your leather remains supple and in good condition, which also helps with protection from liquids and grease, keep on top of your leather treatment care using a specialist protective agent. We appreciate this is not an ideal task to do at the busiest time of the year, but it will be well worth doing ahead of the masses of Christmas footfall you will hopefully enjoy over the holidays.
Leather also dries out over time, especially in warm or hot environments, so it does require regular attention. Using leather conditioner periodically or whenever the material feels dry, will ensure your leather banquette seating remains in tiptop condition. Real leather is more durable than any PU/PVC materials because it is able to breathe and so it will last longer than any Faux Leather booth or banquette seating.
Keeping Your Leather Booth Seating Clean
As with all fabrics, leather needs to be kept clean in order to increase its longevity. Surface dirt can be wiped clean from your bench or booth with a slightly dampened cloth but avoid making the leather really wet or being too heavy handed. Dust and small debris can be removed with a soft brush attachment of a vacuum cleaner.
Any liquids spilt can be removed with a dry cloth and by carefully dabbing the affected area to soak up the mess.
Leather is resilient and that is why it is a great choice for banquette and bench seating. Finished leather is coated with a colouring pigment and clear protective layer to give it additional protection. Leather will naturally scar and stretch over time, and with it being a natural product, no two pieces are ever the same.
Caring for your Leather Furniture Correctly
Cleaning products such as stain removers or turpentine are not suitable for leather. Always follow the manufacturer's instructions as failing to do so can result in voiding your warranty. If you have any doubts check with the contract furniture supplier. Just reach out to them for some expert advice and they will be happy to help.
At Atlas Contract Furniture, we supply a comprehensive set of cleaning and maintenance instructions at the end of the job. Always check for this information provided by your supplier ahead of a spruce up of your furniture.
If you are planning to use a cleaning agent, then do test it on a tiny area that is not going to be visible in case it does stain. Please also take precautions when cleaning leather benches and booths that have been treated with fire retardant as improper cleaning could influence its effectiveness.
Prestige Leather Banquette Seating
Real leather ages well. The more weathered it gets, the more character it takes on and the better it looks. Leather banquette seating or benches have a certain prestige and air of luxury about them, so if the style is important to your premises, then it is well worth the investment and the upkeep of real leather.
What about Faux Leather?
Many clients opt for the alternative to genuine leather for their banquette and bench seating. Faux Leather seating is easier to maintain, most spillages can be wiped off with a wet cloth, and the cost is also considerably lower. It is a material that works for those on a budget who are still keen on the look of real leather.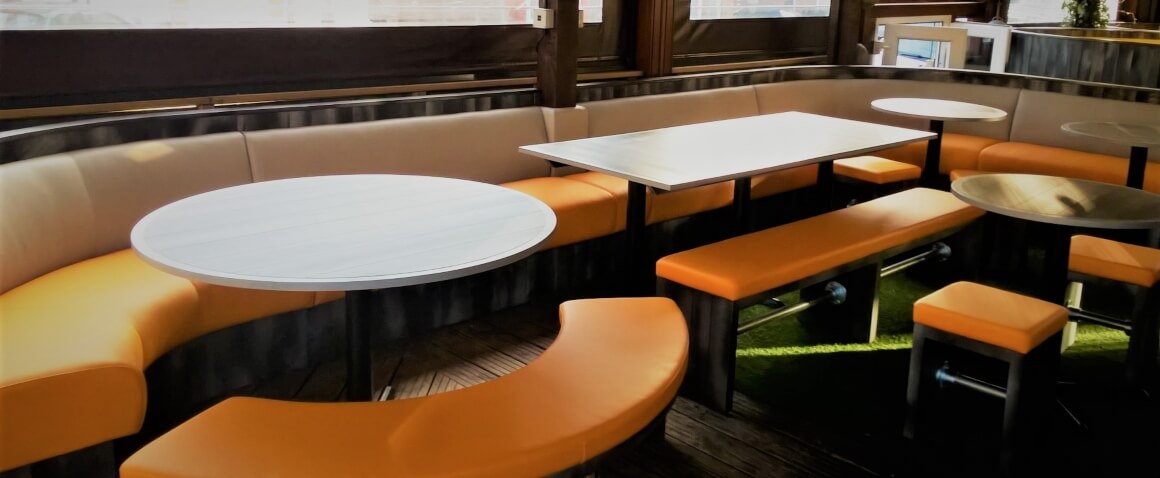 Faux Leather is more stain resistant than real leather but it can be scratched, and there is always the risk that it may have liquids spilt on it. Should this happen, clean it with warm water and detergent to rejuvenate it, and if you have any downtime, make the most of it and give your faux leather benches or banquettes the once over to impress your customers with a clean and tidy environment. Tougher stains may require an alcohol based all-purpose cleaner, but as with real leather when trying this out, do so in a less conspicuous area.
Time for new Leather Banquette Seating for the New Year?
Should you require a bespoke design for your bar, pub, club, restaurant or any commercial or office environment, Atlas Contract Furniture will be more than happy to accommodate your requests. We can offer a variety of styles for leather banquette seating, or any alternatives that you have in mind. The New Year is a great time to give your space a new lease of life, so please do get in touch and see if we can help.